Increasing Speed, Reliability And Marketing Effectiveness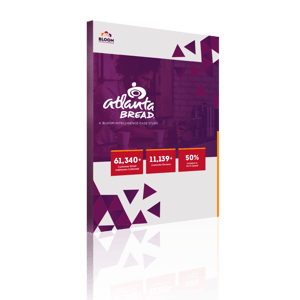 Sometimes solving one problem leads to powerful, unexpected benefits.
Atlanta Bread Company, a national chain of cafes, was struggling with slow, unstable customer Wi-Fi. When it found a solution that significantly increased Wi-Fi speed and strengthened security, the chain also discovered a source of enlightening data that it could use to boost its marketing.
"Suddenly, we were able to find out how long people were staying inside our cafes… what their habits were, their frequency of visits; they gave us a multitude of data. Bloom Intelligence gave us the opportunity to offer high-speed Wi-Fi while building our sales as well."
- Bob Cross, Vice President of Operations, Atlanta Bread Company
Download our case study to learn how Atlanta Bread Company's new customer Wi-Fi solution helped the chain:

Boost sales

Increase Wi-Fi speeds by 50%

Enhance Wi-Fi security

Collect over 60,000 customer email addresses

Galvanize over 11,000 customer reviews