You're 5 Steps Away From Increasing Foot Traffic And Sales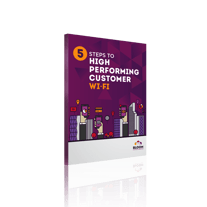 Restaurants and retail locations are constantly struggling to understand their customers better and create promotions that increase revenue. It's an uphill battle and, too often, you're just guessing as to what might work.
Fortunately, the free Wi-Fi you're already offering customers has the potential to transform your business into a data-driven, successful marketing machine.
Social Wi-Fi is a term that refers to using login pages to provide your customers free access to your Wi-Fi, then using the data you collect to power up your store marketing strategy. But to really drive revenue with social Wi-Fi, you need high-quality technology, robust capabilities and a clear, comprehensive strategy.
Download our free e-book, 5 Steps To High-Performing Customer Wi-Fi, to discover five actionable strategies for:
Capturing valuable customer information with social Wi-Fi

Analyzing customer behavior data to improve business results

Leveraging social Wi-Fi tools to boost sales with automated marketing