We sincerely hope that you enjoy the guide! Your PDF will also arrive in your e-mail inbox shortly.
---
Special Bonus!
find out how world of beer increaseD customer email collection A whopping
752%
The World of Beer franchise was struggling with a nation-wide marketing problem: communicating promotions and special events to customers when they're visiting a location. The bars were collecting emails through their free customer Wi-Fi landing page, but were not satisfied with the number of email addresses they were collecting, which didn't line up with the number of daily guests.
THE GOALS: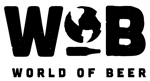 Collect qualified customer information
Implement triggered marketing offerings
THE APPROACH:
Assessed current tech and marketing
programs
Installed Bloom Intelligence Wi-Fi analytics platform at 70 locations
THE RESULTS:
Increased monthly customer email collection 7.52 X!
Anticipating an 89% ROI within three months
Ready to get the full story? Fill out the form to access it immediately.